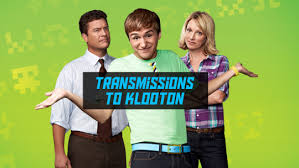 Transmissions To Klooton is a web series that can be found on the Nickelodeon website. It is for fans to watch and enjoy and give more information about the show.
List Of 'Transmissions To Klooton' Pages
Edit
Transmission To Klooton: Chores
Transmission To Klooton: Football Zombies
Transmission To Klooton: Prank Calls
Transmission To Klooton: Homework For Humanoids
Transmission To Klooton: Humanoid Magic!
Note: The admin MamuelRoriTessie is in charge of making the pages. Updates for other Transmission To Klooton webisodes will be added overtime, as Nickelodeon Australia adds them almost every Friday. More of these pages are due to be made overtime.
Ad blocker interference detected!
Wikia is a free-to-use site that makes money from advertising. We have a modified experience for viewers using ad blockers

Wikia is not accessible if you've made further modifications. Remove the custom ad blocker rule(s) and the page will load as expected.