Teri Forman

'
Information
Full Name
Teresa Jennifer Forman
Nickname(s)
Teri
Teresa
Age
16
Hair Color
Blonde
Eye Color
Blue
Family
Liz Forman (mother)
Relationships
Brianna (Friend)
Occupation

Student

Production
First Appearance
Pilot
Last Appearance
Big Time Marvin
Portrayed By
Victoria Van Tuyl
Teri Forman
is one of the main characters in
Marvin, Marvin
. She is portrayed by
Victory Van Tuyl
.
Appearance
Teri Forman has long blonde hair which could be naturally curly or she curls it, and blue eyes.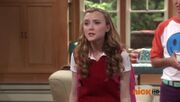 Personality
Teri is one of the smartest characters and she is also a good child. She sometimes gets concerned when Marvin is by her side since she doesn't like to get embarrassed. In Pilot, at the end, she helps save Marvin from being bullied from Cliff and Marvin helps her win the election. She also, in the beginning of Marvin's party, rejected it, but, later, she seems to be enjoying it a lot. she likes hot vampires and werewolfs.
Trivia
In some episodes you can tell that she is a little boy crazy.
She gets boy advice from her mum.
She ran for class president at her school.
In Pilot, it reveals that she is afraid of the dark.
She used to work at Burger on a Bun.
She relies on Brianna for most things.
She is very protective of Marvin.
She is a big fan of Big Time Rush.
Marvin helped her win concert tickets to Big Time Rush.
She has a crush on James Diamond from Big Time Rush.