Meri
is the pairing of characters
Marvin
and
Teri Forman
.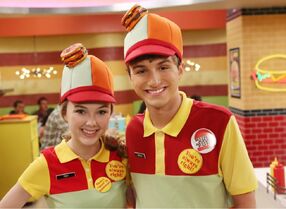 Season 1
Marvin helps Teri win the election.
Teri assists Marvin in his fight with Cliff Drill.
Marvin wants to help Teri with her election.
Teri say's she'll watch him at school.
Marvin helps Teri with her products.
Teri offers to help Marvin by buying Improbable Story.
Teri helps Marvin remove nerves off his tooth.
Teri helps keep Marvin's identity a secret.
Teri gets Marvin a job.
Marvin feels bad for firing Teri from their job.
Marvin trys to apologize to Teri for firing her.
Marvin knows with Teri is going to say.
Marvin buys Teri Katy Perry tickets with the money he got from his job.
Marvin and Teri hug.
Mervi Gallery
Edit
Ad blocker interference detected!
Wikia is a free-to-use site that makes money from advertising. We have a modified experience for viewers using ad blockers

Wikia is not accessible if you've made further modifications. Remove the custom ad blocker rule(s) and the page will load as expected.